The Pad Place Testimonials
Our customers love our desk pads so much, they often write back to let us know.
Here's many of these testimonials. More added regularly, check back soon!
I received my desk pads today and they are, as expected, wonderful!
Thank you for your quality work. They are exactly what I was looking for.
Jason
Hi Ross, I just wanted to thank you and your team for the beautiful desk pad!  It is absolutely perfect, and I couldn't be more pleased!!  I truly appreciate how well the pad is crafted and that you were so accommodating in making it to my specific dimensions.  Many thanks to you all.
Margot
Hello Ross, I just wanted to let you know that I received my new custom desk pad last week and it is beautiful!  I'm really enjoying both the style and the function. Thank you so much for taking the time to work with me!
With kindest regards,
MaryAnn
Hey Ross and the Pad Place, I've been meaning to tell you that the desk pad is awesome! Way better product/material than was expected. Fitting like a glove!
Thanks again.
Chuck
Hi Pad Place, the pad arrived yesterday – it is BEAUTIFUL. Thank you, thank you, for such nice work. Have a good afternoon.
Donna
 Hi Angela, just wanted to let you know that the desk pad arrived a little while ago. It looks great and I am very pleased with it. Sincerely,
Robert
 Just wanted to let you know that the pads arrived and they are beautiful!! We are so pleased with them. Thank you
Susan
Hi Ross, just a quick note to say thanks for my desk pad…it is great and fits perfectly!!
Great work! Regards,
Jeff
Hi Ross, the pads look amazing. will look forward to another order soon.
Jason

Just wanted to let you know I received the desk pad I ordered and it is fantastic!  Great quality, fair price, color matches perfectly, and fit is right on.  It was definitely worth the wait.  I appreciate your help and will refer others to your business.  Have a great day.
Ed
Hi Ross, I just received my desk pad and was pleasantly surprised!!  It is the best desk pad I have ever bought and very rich looking! Thank you so much.
Anna
I received the desk pads last week. It's beautiful and fits perfectly. And the laser mouse tracks well on it which is a definite bonus. Thanks for your help and everyone's amazing craftsmanship.
I love it.
Joe K
My desk pad was delivered today and it's great!  First, the packaging was exceptional and the attention to detail in making sure it was wrapped well certainly impressed me. Second, the desk pad itself was far more than I expected.  The quality is excellent and fits perfect on my desk. I will most certainly use you in the future.
Thank you again for a fantastic product, with perfect customer service!
Mary
Just wanted to let you know that our order arrived yesterday and it is perfect. We had been searching for a solution to our desk edge problems for months, and your pad is exactly what we needed. Thanks very much.
Lisa
Thank you for your great product! I run my business from home and this is perfect to protect my desk!
Marty G
Ross,
The desk pad arrived today.
It Is exquisite! Perfect fit, perfect color.
Thank you!
George S.
Hi Ross,
While my wife and I have made many online purchases over the years, this is the first time I've written a comparable email. Your desk pad completely exceeded our expectations and was perfectly manufactured. It also could not have been packaged with more care. We fully appreciate what turned out to be a perfect purchase.
With best regards,
Dave and Patricia P.
Virginia Beach, VA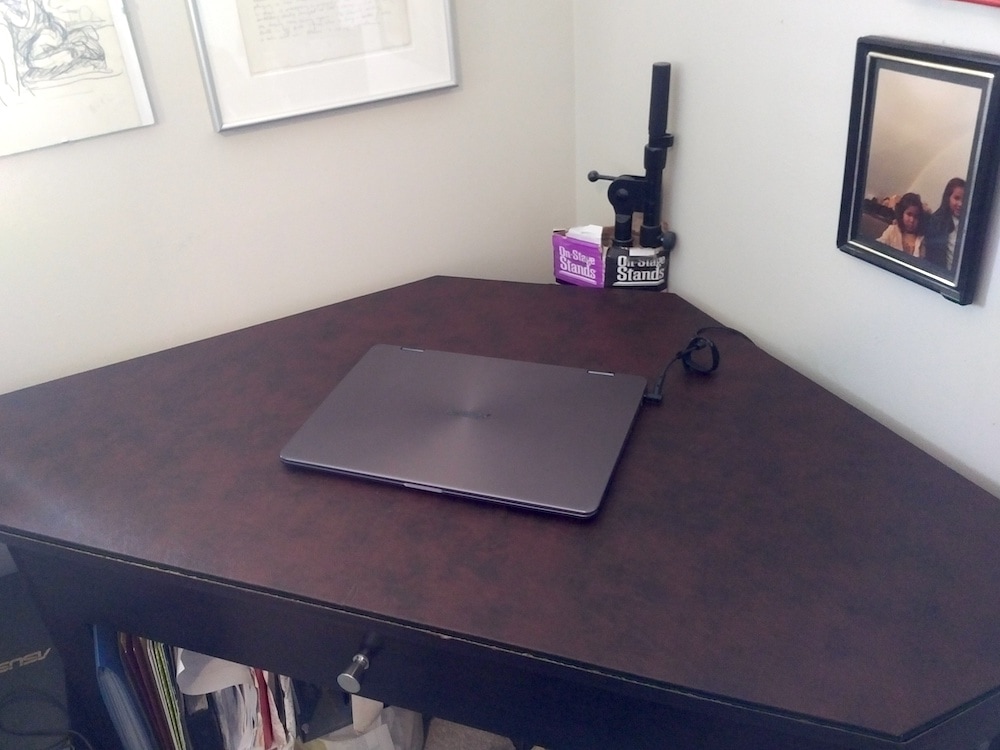 Hi Ross! I just received my custom desk pad – it's perfect!
Thank you! Rachel