The Pad Place Testimonials
Our customers love our desk pads so much, they often write back to let us know.
Here's many of these testimonials. More added regularly, check back soon!
Hi Ross,
Just wanted to let you know my pad arrived early this week and looks fantastic – I'm very pleased with it!! It fits EXACTLY in the space I need it and the edge protector still leaves plenty of room for the drawer underneath to open and close freely – PERFECT!!!
Thank you for getting my order out so quickly, I greatly appreciate it.
Mike
First observation I noticed was the attention to detail from your shipping department, so well carefully packaged and everything all in excellent shape in delivery.
This pad order was outstanding…it's refreshing you have a team who values the integrity of your craft in design and processing. Your high principle values in workmanship puts your company in the "best" category. I'll certainly be directing USA folks to your website because frankly, your overall excellence is above the rest of the players in this industry!
Gary
Hi Ross,
The pad is perfect. Thank you for your expertise and patience. I'm a very satisfied customer.
I wish you and your co-workers well.
Carol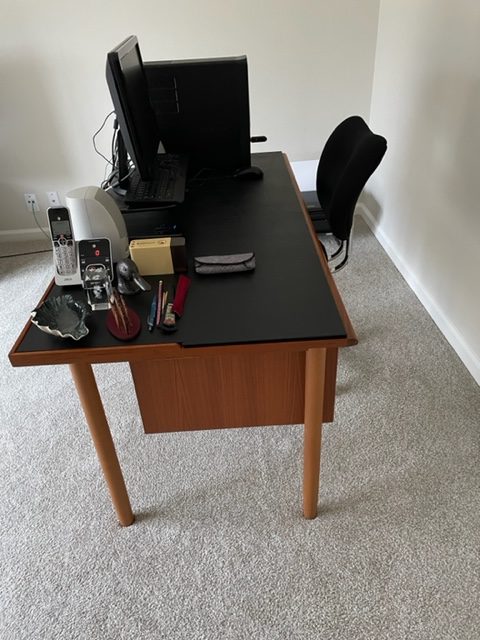 I've been meaning to email you since the first day my desk pad arrived… I love it! It has breathed new life into my family's 1920s solid oak secretary desk, which I now use daily for my work-from-home job. I think the desk originally had a leather or some other material top. Of course, this has disappeared many years ago. We had been waffling back-and-forth on whether to keep the desk or get rid of it as it was a bit of an eyesore with just a vinyl tablecloth on it. The desk pad looks like it has always been a part of the desk. I am very impressed with the colour. It is a perfect complement to the oak. Picking colours online is always challenging, but your rendering was near-perfect. On a side note, I give props to your mailing department. I was impressed on how well it was packaged to ensure that there would be no damage. I will definitely recommend your product to everyone. Thanks Again,
Laura.
Hi Ross,
My husband and I received our desk pads yesterday. Boy are they nice! Thank you for your great product and responsive customer service! It was a pleasure doing business with you.
Julie and Jim H
Marana, AZ
Our desk pads arrived a couple days ago, and we are so delighted with them and their custom fit. WE Love them!! Thank you for your professional help, attention to detail, and customer concerns and satisfaction. It is so refreshing to deal with a company that gives one on one attention.. Again thank you so much!! I would like to leave you a review, please advise where to leave our comments?
Marcia
I wanted to let you know that I received the desk pads I ordered today.
Fantastic workmanship and quality!
Thank you,
Cal K.
Just wanted you to know that I've been traveling but I got home last night and the pad you made me is amazing! I've tried to find a replacement for the IKEA pad for a couple years and it's perfect!
Thanks again.
David R.
Ross,
I received my desk pad last month, and couldn't be more pleased. Exactly as advertised, and exactly what I was looking for (for quite some time). Professional, to my specification, and quick response to inquiries. I will recommend, and wish you the best!
Jim L
Hi Ross! I just received my desk pad! It's amazing! The measurements were absolute perfection. And the quality and beauty of it far exceed my expectations. I can't thank you enough for your kindness and professionalism working with me to get this project complete. You made the whole thing fun and easy! Thank you thank you thank you!
Some helpful advise – DON'T CHANGE A THING! :-)
Take care and kindness regards!
Thomas
I got my two desk pads and I am very pleased. I thought you might like to see some before and after pictures.
Kelli S.

The pad arrived and it fits perfectly. Great job! I'm happy to give you guys an endorsement in whatever review you like.
Thanks Again,
Tom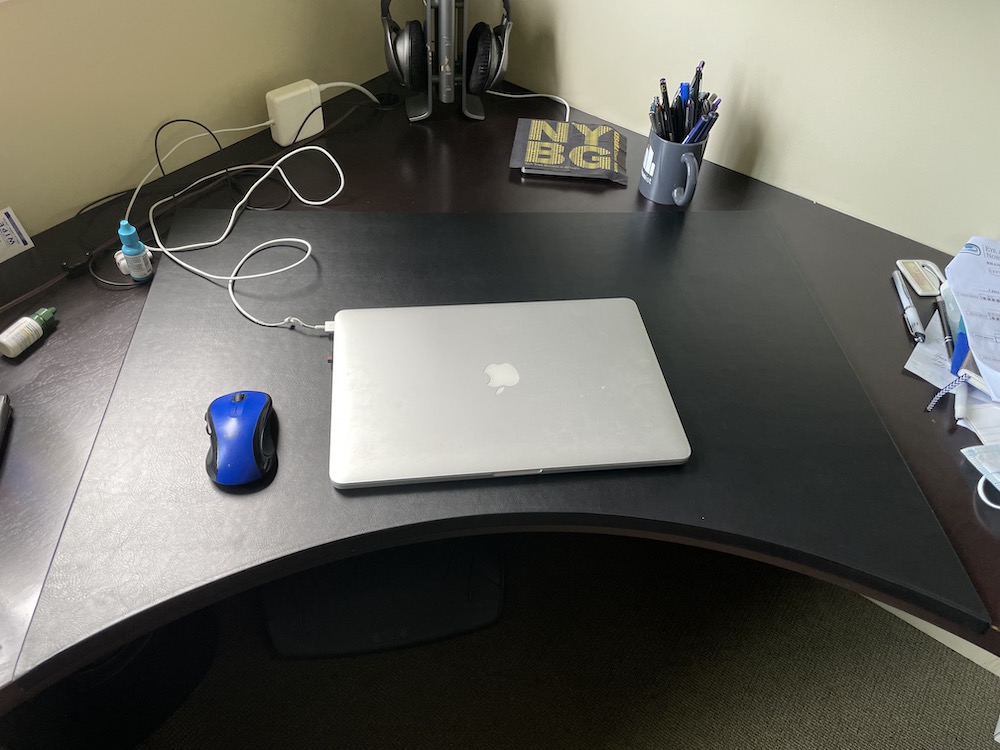 I bought my desk and desk pad from IKEA in 2011. My desk survived, but my desk pad did not.
I have been searching for a new desk pad for quite a few years and finally came upon the Pad Place. Ross suggested I send him a template of my old desk pad and he was able to replicate it perfectly, and the quality is even better than my old one.
For a company to be willing to adapt and try something new is amazing!
Thank you so much, Lise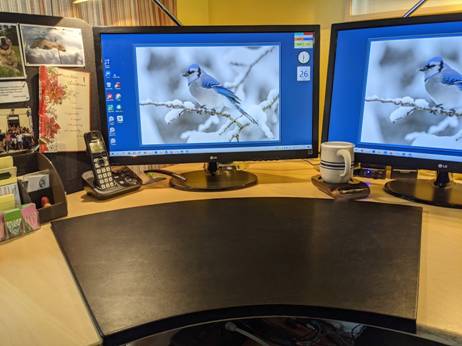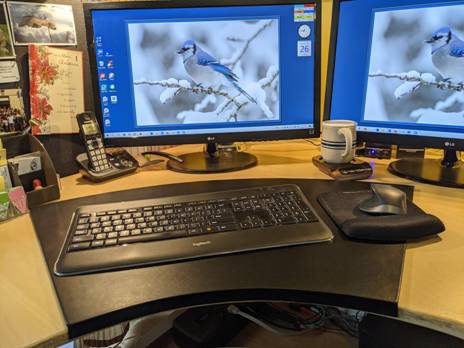 I received the pad a few days ago and I gotta say I am very pleased with the quality and size accuracy you landed! Thank you so much!
Not gonna lie, I was a little hesitant working with virtual measurements but you guys really nailed it! I will be keeping you guys in mind for future projects and recommending your custom pads when I can.
Take care and keep killing it!
Alejandro C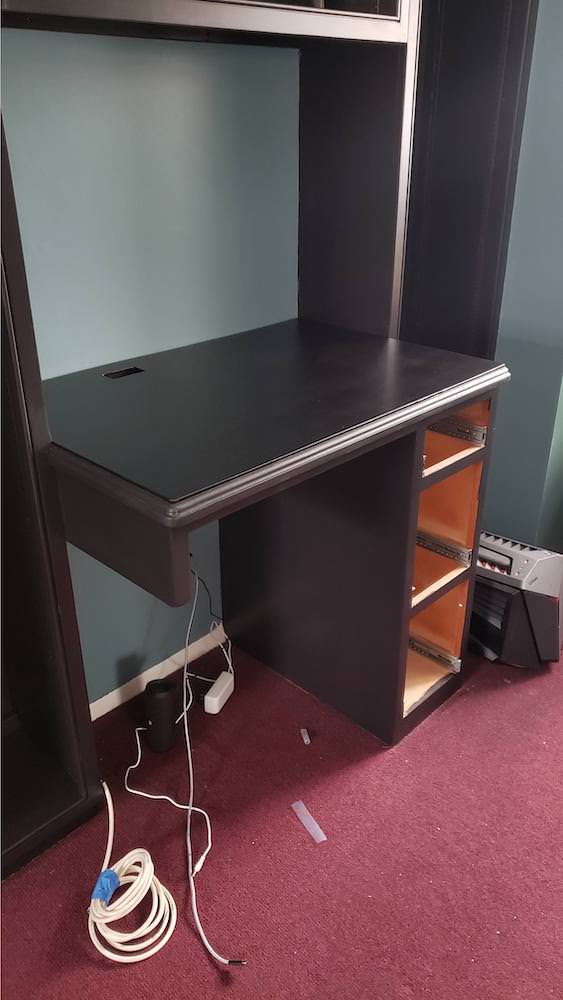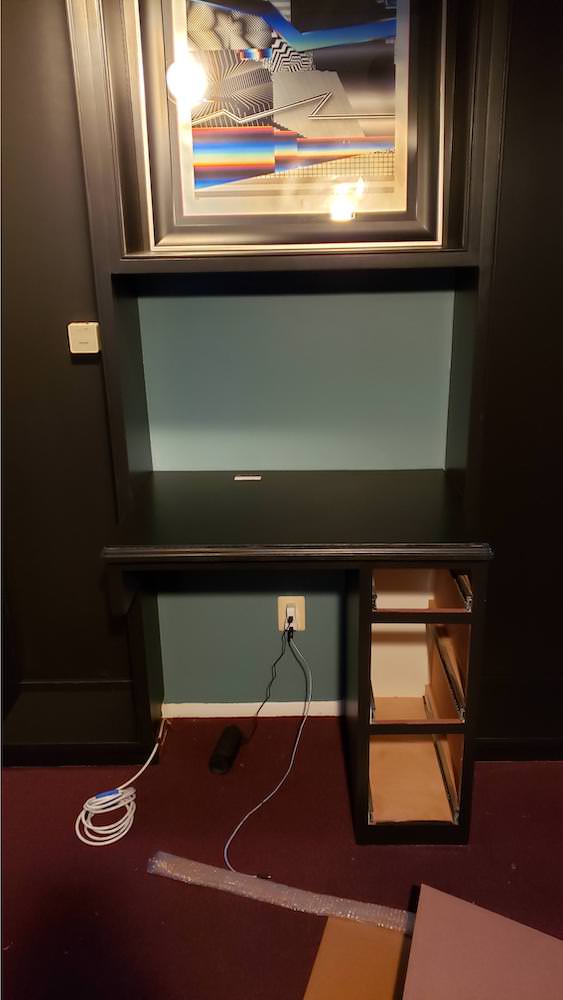 Hi Ross,
I just received the order and I am thrilled with both pads..they fit perfectly and they are beautiful..the pictures don't do them justice.
An added bonus was that they arrived earlier than I was expecting!
Thank you so much and I will be sure to recommend your firm to my friends.
Sincerely,
Gail
Our desk pads arrived today and we are over the moon happy with your product. After receiving them I totally get why they are a bit more expensive than the ready made. These are quality pads and beautiful. They go with our desk and printer stand color, Dark Cherry, very nice. Really put a finishing touch on the study.. The cuts are perfect and precise in measurement.
Thank you for your help !
Bob and Donna
Fredericksburg, VA
Today I received my new desk pad…and WOW…I'M SO HAPPY. IT'S PERFECT! Thank you so much for making this beautiful custom desk pad.
Merry Christmas and Happy New Year!
I received my desk pads today and they are, as expected, wonderful!
Thank you for your quality work. They are exactly what I was looking for.
Jason
Hi Ross, I just wanted to thank you and your team for the beautiful desk pad!  It is absolutely perfect, and I couldn't be more pleased!!  I truly appreciate how well the pad is crafted and that you were so accommodating in making it to my specific dimensions.  Many thanks to you all.
Margot
Hello Ross, I just wanted to let you know that I received my new custom desk pad last week and it is beautiful!  I'm really enjoying both the style and the function. Thank you so much for taking the time to work with me!
With kindest regards,
MaryAnn
Hey Ross and the Pad Place, I've been meaning to tell you that the desk pad is awesome! Way better product/material than was expected. Fitting like a glove!
Thanks again.
Chuck
Hi Pad Place, the pad arrived yesterday – it is BEAUTIFUL. Thank you, thank you, for such nice work. Have a good afternoon.
Donna
 Hi Angela, just wanted to let you know that the desk pad arrived a little while ago. It looks great and I am very pleased with it. Sincerely,
Robert
 Just wanted to let you know that the pads arrived and they are beautiful!! We are so pleased with them. Thank you
Susan
Hi Ross, just a quick note to say thanks for my desk pad…it is great and fits perfectly!!
Great work! Regards,
Jeff
Hi Ross, the pads look amazing. will look forward to another order soon.
Jason

Just wanted to let you know I received the desk pad I ordered and it is fantastic!  Great quality, fair price, color matches perfectly, and fit is right on.  It was definitely worth the wait.  I appreciate your help and will refer others to your business.  Have a great day.
Ed
Hi Ross, I just received my desk pad and was pleasantly surprised!!  It is the best desk pad I have ever bought and very rich looking! Thank you so much.
Anna
I received the desk pads last week. It's beautiful and fits perfectly. And the laser mouse tracks well on it which is a definite bonus. Thanks for your help and everyone's amazing craftsmanship.
I love it.
Joe K
My desk pad was delivered today and it's great!  First, the packaging was exceptional and the attention to detail in making sure it was wrapped well certainly impressed me. Second, the desk pad itself was far more than I expected.  The quality is excellent and fits perfect on my desk. I will most certainly use you in the future.
Thank you again for a fantastic product, with perfect customer service!
Mary
Just wanted to let you know that our order arrived yesterday and it is perfect. We had been searching for a solution to our desk edge problems for months, and your pad is exactly what we needed. Thanks very much.
Lisa
Thank you for your great product! I run my business from home and this is perfect to protect my desk!
Marty G
Ross,
The desk pad arrived today.
It Is exquisite! Perfect fit, perfect color.
Thank you!
George S.
Hi Ross,
While my wife and I have made many online purchases over the years, this is the first time I've written a comparable email. Your desk pad completely exceeded our expectations and was perfectly manufactured. It also could not have been packaged with more care. We fully appreciate what turned out to be a perfect purchase.
With best regards,
Dave and Patricia P.
Virginia Beach, VA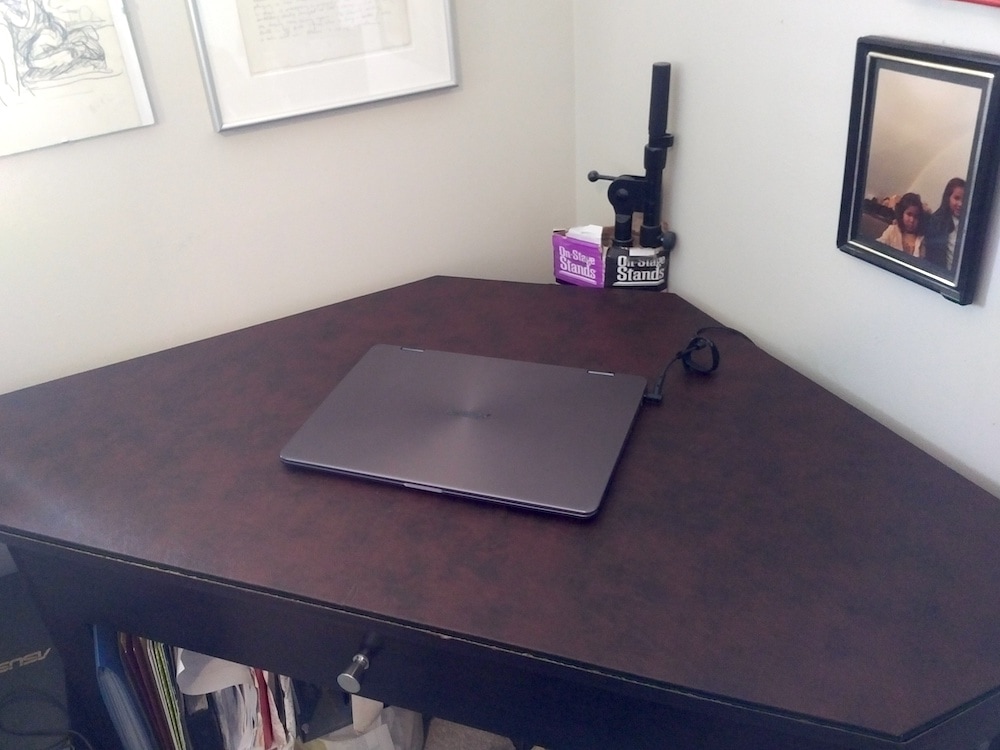 Hi Ross! I just received my custom desk pad – it's perfect!
Thank you! Rachel